Good Morning lovelies!  I hope you're enjoying the last few weeks of winter! I know we've been SLAMMED with rain here in Northern California and even though I don't live where it snows, I was inspired this week to design a much-needed snow covered kit all about skiing, snowboarding and sledding!  Hit The Slopes has a ton of gorgeous illustrations and is the perfect collection to get you through any of your winter mountain sports!
Bonus, this week when you pick up the Hit The Slopes collection, you'll get the glitter vellum alphas absolutely free!
Make sure you're a "fan" of the Traci Reed Designs page and you can even set your notifications to "see first" so you never miss a thing!
We share TONS of fantastic tutorials and articles written by the Hawt Mamas that will inspire YOUR scrapping, as well as product sneak peeks, giveaways and freebies!
xoxo,
Traci
---

Hit The Slopes
by Traci Reed
Whether you're cruisin' downhill on a snowboard, tube or set of skis, Hitting The Slopes by Traci Reed is the perfect collection for all your winter mountain sports! In a fantastic neutral color palette that will match any of your photos, with a ton of hand-drawn illustrations, Hitting The Slopes is unique, versatile and oh-so-fun!
Includes: 14 patterned and 9 solid digital scrapbooking papers, 5 construction paper style digital alphabets on individual .png files and 73 digital scrapbooking embellishments including: 2 chevron arrows, 1 snowboarding bear illustration, 1 snowboarder silhouette, 1 bow, 1 car illustration, 1 bunting, 4 buttons, 1 ski cabin illustration, 1 cocoa illustration, 4 paper flowers, 4 frames, 4 glitter snowflakes, 1 goggles illustration, 1 gondola illustration, 1 beanie illustration, 3 labels, 2 square journal spots, 2 paper leaves, 1 lift pass, 1 loading zone sign, 1 mittens illustration, 1 mountains illustration, 3 paper stars, 2 pine branches, 4 ribbons, 8 rubber word bits, 1 sign illustrtion, 1 ski bunny illustration, 1 skier silhouette illustration, 1 skiing vellum title, 1 ski pole illustration, 2 ski illustrations, 1 sledding vellum title, 1 snowboard illustration, 1 snowboarding vellum title, 1 snowy edge 12×12 overlay, 2 graphic stamps, 1 string, 2 snow covered tree illustrations and 1 tube illustration.
---
Coordinating Cards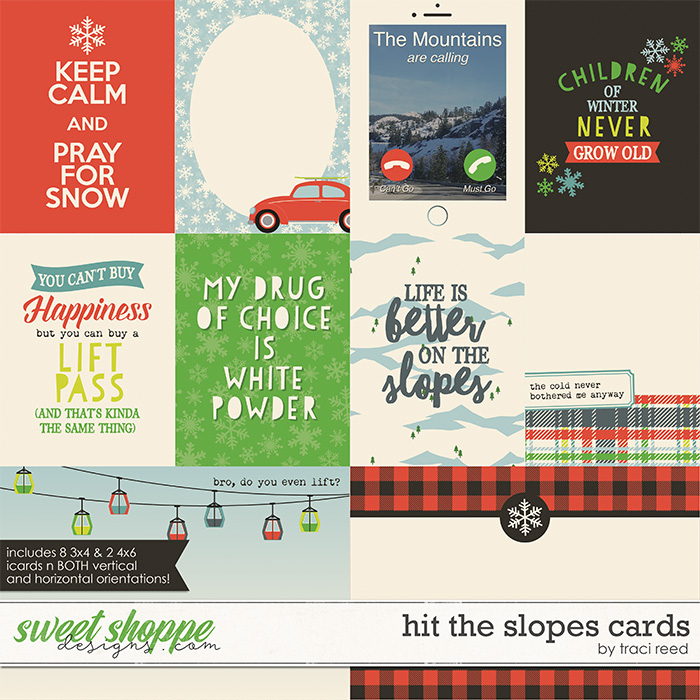 ---
Save $$$ With The Collection!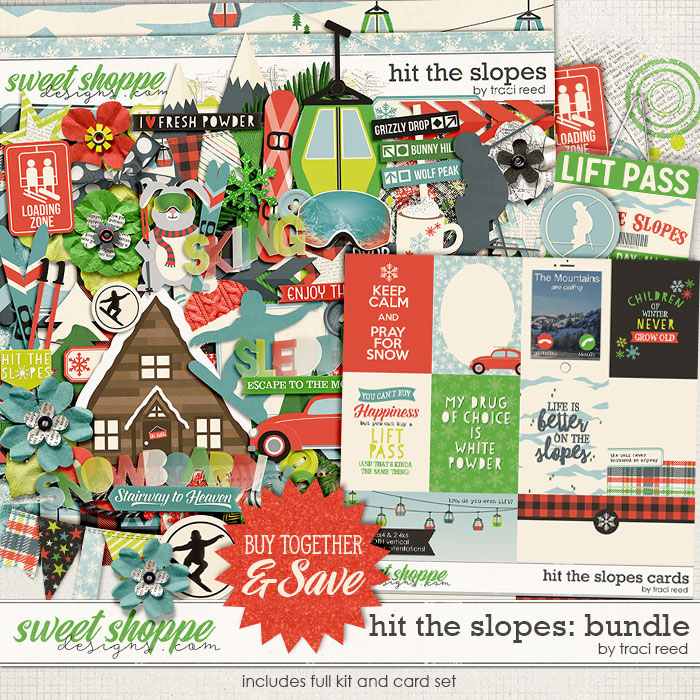 FREE Gift With Purchase: Receive the Hit The Slopes Glitter Vellum Alphas FREE when you buy by the Hit The Slopes Bundle now through Feb 17th, 2017! Your FREE gift will be included with your downloads automatically.
Hawt Mama Inspiration