Hello Hello Hello lovelies! I'm so happy to be designing for you this week and BOY do I have a doozy for you! This year, I'm inspired by all things vintage and feminine and I've decided to create a stunning series of everyday themed kits with that vibe – I've even picked out 12 stunning vintage girl names and they each have their own personality I can't wait to exemplify in kit form! This week, I'm kicking off the series with Caroline – feminine and frilly with tons of hand drawn florals, Caroline is a lovely addition to your scrap stash!
This week, I shared a fun video of myself drawing the florals for Caroline on my iPad Pro, and then I ran a fun "win it before you can buy it" thread with 1 lucky winner getting Caroline and the coordinating Caroline Cards absolutely FREE!  Did you miss out?!
Make sure you're a "fan" of the Traci Reed Designs page and you can even set your notifications to "see first" so you never miss a thing!
We share TONS of fantastic tutorials and articles written by the Hawt Mamas that will inspire YOUR scrapping, as well as product sneak peeks, giveaways and freebies!
Phew! That's a lot of information! Don't forget that Caroline is on sale AND you get the Caroline Cards FREE when you purchase the kit through 1/20!
xoxo,
Traci
---

Caroline
by Traci Reed
Everyday vibes with a vintage feminine feel, Caroline by Traci Reed is the perfect collection for almost anything you'd want to scrap! The first in a year-long series inspired by vintage ephemera and colors and girls names, Caroline will have you swooning over the color palette, hand-drawn florals, eclectic embellishments and lush flowers and greenery! There's enough in this kit to give life to 10 layouts, each one looking different than the last!
*SPECIAL OFFER: Receive the Caroline cards FREE when you purchase this kit between now and January 20th, 2017! There is no need to add the Caroline Cards to your cart, it will be automatically included with your downloads.
Includes: 14 patterned and 9 solid digital scrapbooking papers, 5 complete color-dipped veneer alphas on individual .png files, and 74 embellishments including: 1 pennant banner, 2 bows, 3 brush strokes, 3 color-dipped burlap hearts, 5 vintage buttons, 2 enamel hearts, 4 flair buttons, 11 varied flowers, 7 hand-illustrated flower stickers, 3 foliage, 3 frames, 3 glitter tapes, 1 heart mat, 2 vintage labels, 1 piece of lace, 5 ribbons, 3 veneer titles, 3 color-dipped veneer hearts, 4 word banners, 4 word art labels, and 4 rubber wordbits.
---
Coordinating Cards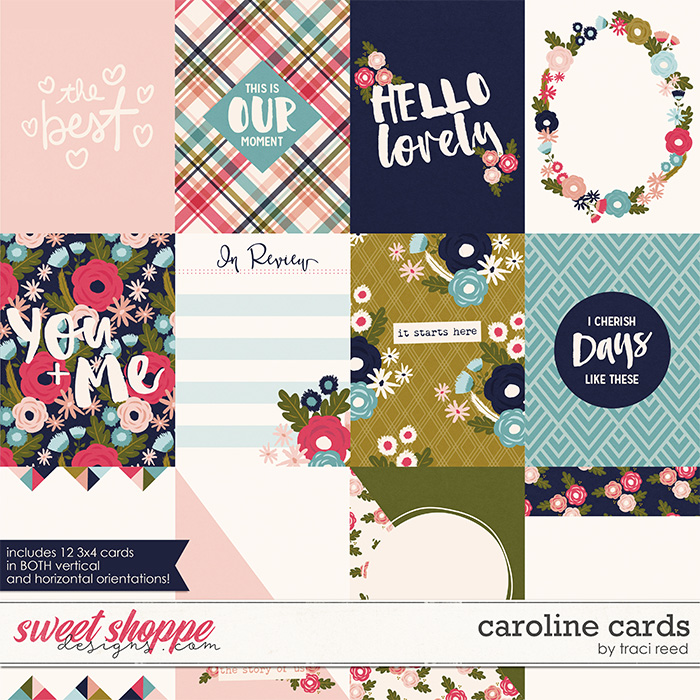 ---
Hawt Mama Inspiration