Art journaling has been increasing in popularity recently. I've seen so many pages in art journal style and I loved it. While in the beginning art journaling intimidated me because it's messy and very artsy, with time I grew a liking to it.
First a  little background.
If you've never heard of art journaling, here's a description from About.com:
"An art journal is a visual journal or diary, rather than a traditional diary or journal filled only with words. It's a place where you give physical form to your thoughts, expectations and dreams, realities and events, everyday events and exceptional occasions."
And event though an art journal generally includes memories, it's not limited to them.  Art journaling is also about personal reflections, philosophies and observations. It allows you to draw on and show all sides of yourself, from expressing childlike aspects, to your dark secrets.
Whether you create the art or visuals in response to something you want to journal, or whether you use art as a starting point, it doesn't matter. Anything and everything goes: painting, drawing, pen and ink, doodling and noodling, stamping, photos, and collage."
 Scrapping Art Journal Pages
I started scrapping in art journal style a few months ago. Here's my very first art journal page:
It's pretty 'clean' and not very artsy or messy, but that was my first take on art journaling and I loved the process! I find it very healing.
Here's a few more recent page that I created:


Product credits listed here.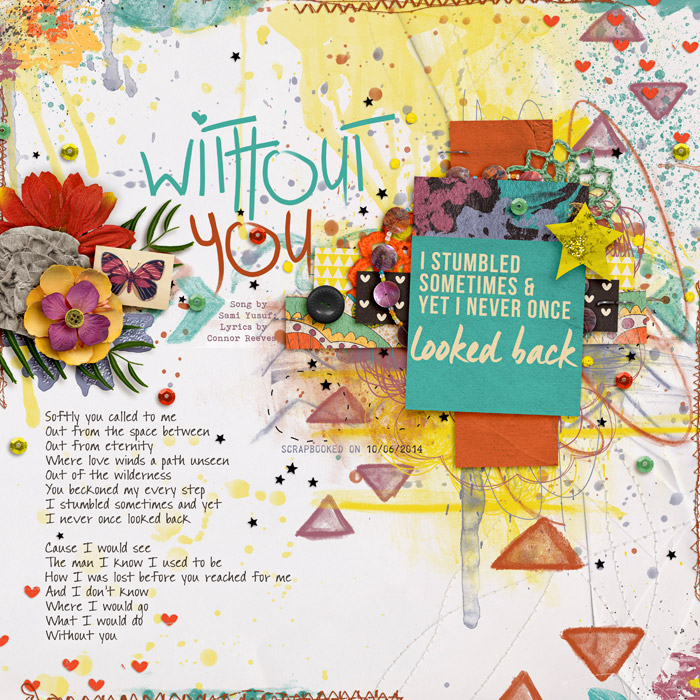 Product credits listed here.
Common Materials & Supplies
Just like any other forms of art, creating an art journaling style layout requires a few supplies. The most-used materials for art journaling are:
sewing / stitches
ink splashes
brushes
gesso
mists
rolled paper
stamped alpha
creative alphas
In short, anything goes! Art journaling is where you create with what you have, even if it means just a pen and paper. You can do lots with a pen – doodles, sketches, journaling. And thankfully for us digi scrappers, it means no mess! Just open up your scrapping software, some digi supplies and create.
10 Gorgeous Art Journaling Products
Traci has a lot of products that are great for art journaling. Here are my top 10 – just click on the image to find them in the Shoppe:

And here's a layout I made with the products listed above:

Art Journaling Prompts & Inspiration
Do you want to scrap an art journaling page, but don't know where to start? Here are some great places for prompts and inspiration:
Have you already done any pages in the style of art journaling? What products or elements do you find you've been using the most? Link us up in the comments below so we could ooh-and-aah on it!
About the Author: Zakirah lives in Malaysia and is her family's storyteller As a result, she loves to journal on her pages so that her family memories can be remembered after she's gone. Her main scrapping goal for 2014 is to complete Project Life digitally and have her pages printed as a photobook at the end of the year.