Today's post is from Stacy Hall. 
Okay, spill… Am I the only one who hoards pocket scrapping inspiration for later? I didn't think so! Pinterest, Feedly, Read It Later, Evernote, there are so many ways to gather images and techniques to read when you have more time to savor them.
I thought I might share 5 tutorials that I have saved because they inspire me either to create something like them or they show me a new technique.
Go Big or Go Home
First, a blog post from Sahlin Studio that grabbed my attention this week. I don't know why I don't do this MORE! I guess I get so focused on fitting photos into those slots that I never think to go that BIG. It's definitely a goal for my upcoming pages.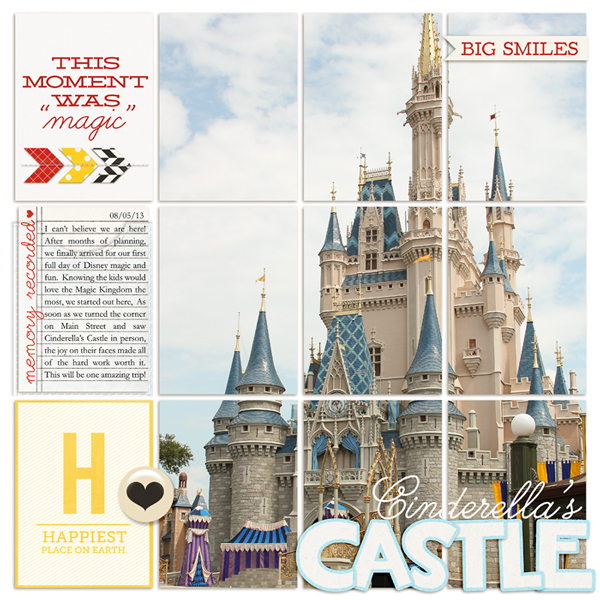 A Little Bit of Paint
Next, how to add a little bit of digital paint to your journal cards from Aaron Morris. The mixed media look is very trendy right now and he has some digital tips for us. Aaron is adding new Pocket Scrapping Tips to his blog on a regular basis so do look out for them. 
Printing With Lightroom
Next up, for the hybrid scrappers among us, a way to save time getting your photos printed for the week using Adobe Lightroom by Heather Greenwood. As a real newbie to Lightroom, this was a game changer for me. Printing always seemed so much easier in Photoshop but this tutorial changed all that. Heather is now doing tutorials each Wednesday so I would recommend adding her blog to your reader for all SORTS of eye candy.

Customizing Journal Cards
Then, a video tutorial on altering the text on digital journal cards by JenEvang. There is something so refreshing about videos. Hearing someone's voice really reinforces their enthusiasm for this hobby we all share. Her tips for customizing the digital journal cards which we are all collecting so vigorously and making them our own taught me a couple of new tricks.

Do It YOUR Way
Finally, a blog post/video from Elise Blaha Cripe on the Studio Calico blog. I've admired her utter devotion to Project Life for several years now, small details and big ones. She is a kindred soul who is focused on telling the stories of her life. I love that in this video she reminds us that our pocket scrapping can be whatever we need it to be at the time. There are no rules that say it has to be weekly just because other people do it that way. She embraces the simplicity of it at this point in her life but is totally open to letting it evolve along with her.

I hope I shared a little inspiration with you, maybe even helped you discover someone new. Can you recommend a tutorial or two to add to my list or blog reader?
About the Author: Stacia Hall is an accountant by day, and a super scrapper the rest of the time. She describes herself as a storyteller at heart, who wants her children to understand and feel what she was thinking when she created her pages. Her scrapping goals for 2014 include better balancing her traditional layouts with everyday moments and pocket scrapping.