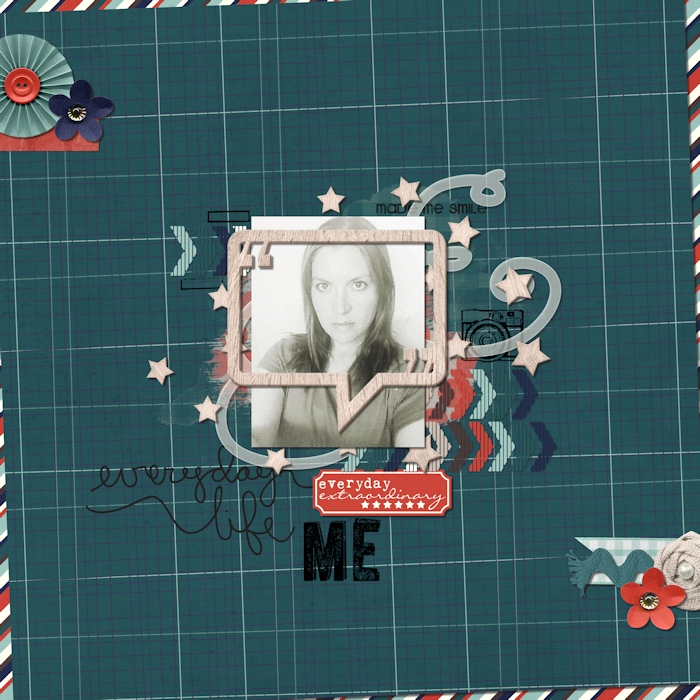 Today's post is from Mari Franchuk.
We all have those pictures sitting around that didn't turn out quite as perfect as we were hoping, maybe they are blurry or dark or pixelated or just not that flattering.
What do you do when that happens? Do you just assume you will not be scrapping that event? I hope I can convince you to change your mind and scrap those less than perfect photos anyway!
In the future, you will appreciate the memory that will be preserved even if the photos aren't as great as you would like.
Edit Away!
One easy solution is to attempt to fix the photo through either your own editing skills or an action you have purchased. I have a number of actions I use on bad photos in an attempt to fix them. I also use my own skills in my program to try to fix it.
There are a number of tutorials that could help you if you are unsure of how. This solution is especially helpful if your photo is too dark or too bright. You could always go the super easy route though and turn your photo black and white! Black and white hides a multitude of photo sins.
See the layout above? This was a really bad photo, colors were terrible, slightly blown out, a little blurry. I played with editing it and changed it to black and white and ended up with great results.
Shrink It, Baby!
Another easy solution that I often use is to just make the photo small on your layout. If my photo is blurry, but still cute, I will just make it smaller than I would normally make a photo on a layout. You still get the memory, but it's harder to notice the photo flaws when they aren't front and center.
The photo in the layout below was taken by someone else for me and was terrible. But it was all I had of this fun event for my son and I wanted to capture the memory on a layout.  So I used element placement and kept the photo tiny.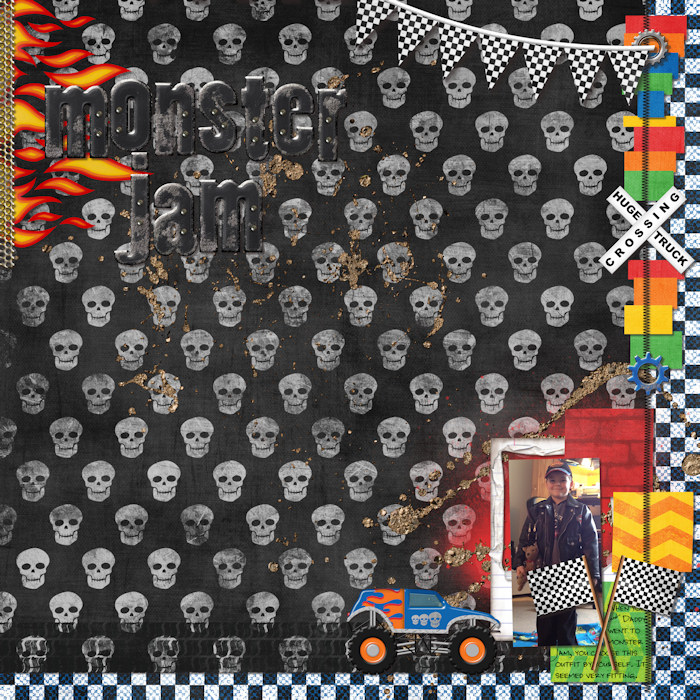 Cover it Up? Yes.
Sometimes you get a photo that has a bad background or something in the foreground that you would rather not show in your layout. This is a pretty easy fix with a number of solutions. You can go the more complicated route and extract the photo, if it's a background issue, or clone out the object, if possible. The easiest solution of all for this problem is just covering the flaw with elements! Pile on some flowers or stars and no one will ever know there was a less than desirable object in the photo.
Crop Till You Drop
With the current popularity of selfies, you are bound to get one where some of the people look cute, but it might not be as flattering to others in the photo. A very quick fix would be crop out the people who didn't come off as well in the photo. Possibly use more than one photo with the most flattering of each person through some creative cropping.
Let It Be
Perhaps the easiest way to use an imperfect photo is to do nothing. Just own that bad photo and use it.
Are your kids making faces instead of smiling? Is your hair blowing wild in the wind? Does your daughter only give you fake smiles or crazy eyes? Who cares; that photo captures life right as it was at that moment.
Years from now you could look back at that photo of your three year old crying on Santa's lap – the one that made you so upset at the time – and laugh because it is so fitting of your child at that moment. There's no reason to automatically ditch those not-so-great moments, capture them the same way you would if everyone was looking into the camera and smiling perfectly.
The photos in the layout below were taken with my cell phone when we happened onto an Avengers' Training course unexpectedly. Not much could be done editing them, so I chose to distract with a busy element placement and just go for it as the memory was better than the pictures.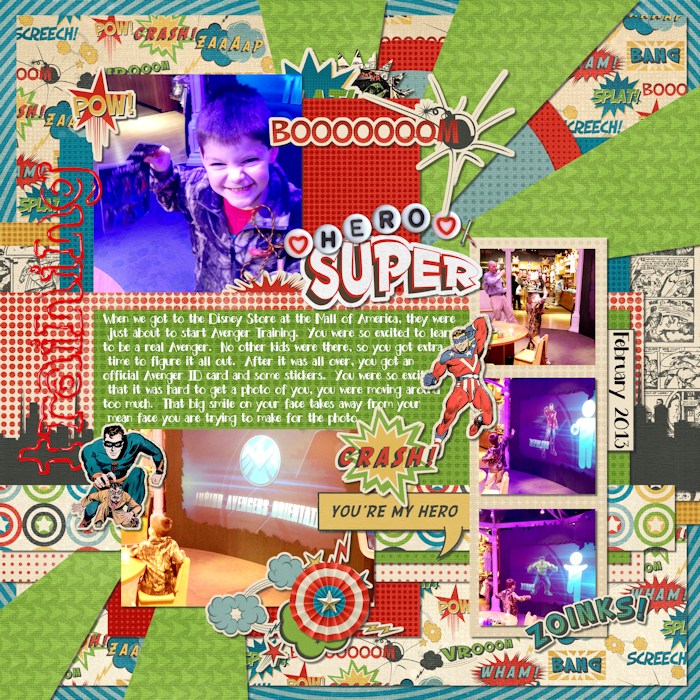 So you can still use your less than perfect photos to capture your valuable memories. Next time you upload your photos and are disappointed with the results, don't just delete them. There are so many ways to still preserve that memory even if you didn't get that perfect shot. Happy scrapping!
About the Author: Mari Franchuk lives in North Dakota and is inspried by trying new styles in her scrapping projects. Her scrappy goals for 2014 including completing her vacation albums and having fun doing it.